Are you a beginner and not able to understand how to select the air ratchet for your work? We will provide here some tips to find a good ratchet. Though completely not ideal air ratchets it would be good enough that you consider buying them. The ratchet is sometimes referred as drive as it will drive into the socket. There are several concerns that are to be taken care when the chrome or nickel plated air ratchets are considered. The quality is dependent on the plates that are used in the ratchet. You should ensure that the plating that is used inside the air ratchets is even along with being uniform in appearance.
Also you should take care about any sharp edges or rough edges that you see in the tool. As the rough edges would indicate that the air ratchets are made out of improper plating and poor machining. There are chances that the ratchets are forged by inferior material. Hence you should take enough care that the rough or sharp edged tools are always avoided though you do not find any tools matching to your specifications as you might have to go for shopping very soon after you purchase this as they do not stay longer as expected by you.
Apart from the general precautions that were listed above which hold good for any types of tool you take you should also know the air ratchets specific precautions that you should take care of while purchasing. One simple way to find which air ratchets will fit for your purpose is to find how many teeth are present in a rotation of 360 degrees. General air ratchets that are found for house applications will have the teeth in number of 20 to 30 where as the professional or typical ones that the crew use will have teeth count of 40 to 60.
The number of tooth in the air ratchets will decide its functioning; the ratchet that cannot get the tooth click perfectly indicates that it cannot turn the socket further. With higher number of teeth, the number of teeth per degree will be high and hence the ratchet will be engaged perfectly in doing the job of rotating the socket which can be achieved with small amount of movement in circular direction. You can calculate these teeth per degree easily while purchasing the air ratchets with the help of pen and paper and your phone calculator.
For example lets us take a ratchet which has 20 teeth, then when you just divide 360 degrees measure by 20 you will get a count of 18, which means that for every 18 degrees you will find one tooth. For a 30 teeth air ratchets you will find one tooth for every 12 degrees gap. Thus you can calculate it easily to find which one would operate better along with comparing the prices for various air ratchets. Finally after reading this you should end up in buying the ratchet that you feel like will be most convenient for use.
---
---
1. Chicago Pneumatic CP7830HQ 1/2-Inch Drive Quiet Air Ratchet
It is the strongest on the market- 90 ft/lbs. Additionally, it features an adjustable noise level – as low as 79 dBA and a patented Tri-Spring antislip head. Delivers up to 90 ft.-lbs. of torque. Drive (in.): 1/2, Speed. No Load (RPM): 190. Variable Speed.
Strongest Ratchet Available at 90 ft lbs.
Aircraft quality aluminum for lightweight
Features CP tri spring head design
Fast – 190 RPM
Tool Weight (lbs.): 2.7
---
2. Campbell Hausfeld PL1548 1/2-Inch Air Ratchet
Finish your automotive and woodworking projects faster and easier with the benefits of air power. Air tools provide more power than electric tools. Air tools are lighter and more compact compared to their electric counterpart. They are easier to maintain and operate with fewer moving parts. Air tools also operate at cooler temperatures.
90 ft lbs of torque provides the power to remove and install large fasteners on outboard engines and other heavy machinery
Great for use on tractors and other farm equipment
Ball socket retainer provides fast and easy socket replacement
Extra long handle provides better handling during operation and additional power for stubborn fasteners
---
3. K&E TOOLS KET1150 Railhead Corporation 3/8″ Reaction-Free Mini Air Ratchet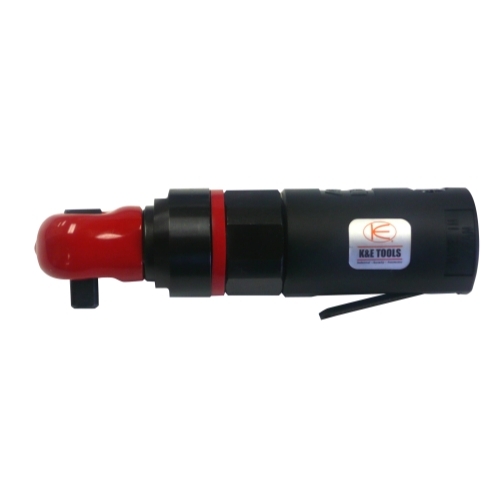 The new K and E Tools Turbopact mini Reaction-free air ratchet offers the best features of any mini air ratchet! Reaction-free Impact Mechanism means: NO MORE twisted wrists! NO MORE smashed knuckles! NO MORE damage to nearby parts! Serious tool users may never use an ordinary air ratchet again!
Fastest air ratchet available 500 rpm
Most powerful mini air ratchet with 50 ft.lbs max torque
Safe and ergonomic reaction-free impact mechanism
Mini size gives improved access to work area
Rubber grip provides increased user comfort
---
4. Ingersoll-Rand 1099XPA Super Duty 1/2-Inch Pnuematic Air Ratchet Wrench
Offering an optimized gear ratio and airflow, the Ingersoll-Rand 1099XPA Super Duty 1/2-Inch Pneumatic Ratchet Wrench is both hardworking and durable. Ideal for a range of professional and do-it-yourself jobs, this wrench makes it easy to apply force to fasteners and helps save time and effort.
Provides 76 ft./lbs. of max torque at 220 rpm free speed
360° adjustable exhaust directs air away from user and work area
Lightweight, easy-to-handle design won't put strain on wrists and hands
Variable-speed button trigger for improved control
1-year warranty
---
5. Ingersoll Rand 1105MAX-D2 1/4-Inch Composite Air Ratchet
Designed to remove and install threaded fasteners, the Ingersoll Rand 1105MAX-D2 1/4-Inch Drive Composite Air Ratchet combines best-in-class power and speed with superior features for maximum productivity. Consistent, convenient, and a real time-saver, this air ratchet helps make jobs more productive and profitable and is an essential addition to any tool box.
Unique head construction for durability and consistency
Hand-operable variable-speed regulator for precision
30 ft-lb max torque and 300 rpm free speed for tackling stubborn fasteners
Ergonomic coupling nut and composite handle ensure comfort
1-year warranty
---
6. SP Air Corporation SP-1765 3/8-Inch Super Fast Mini Impact Air Ratchet Wrench
It is a mini impact air ratchet wrench. The unit is a reaction free ratchet wrench, so the vibration shock pain from normal air ratchets is not present. Unit specifications include a drive size of 3/8″ and bolt capacity of 3/8″, a max torque of 55 ft-lbs., a free speed of 500 rpm, a vibration level of 2.9 m/s, and a sound level of 84.4 dB.
Exhibits full performance even in a restricted area
Single dog clutch impact mechanism with rear air exhaust at base of handle
Durable aluminum housing and protective head cover
Reaction free while still providing high speed and high torque
Durable and high quality construction expertly made in Japan
---
7. Ingersoll-Rand 109XPA 3/8-inch Air Ratchet Wrench
The workhorse of your ratchet collection- the Ingersoll Rand 3/8-Inch anvil ratchets are designed to stay strong throughout their life. Ingersoll Rand ratchets deliver up to 70 ft-lbs of torque and enhance durability with features like a twin pawl and advanced head designs that protect against head separation and slippage. This is the fastest ratchet in its class, with an optimized gear ratio and airflow for Extra Performance, coupled with exceptional durability.
70-Feet-lbs. maximum torque at 300 rpm free speed
Exclusive IR Twin Pawl Plus head design for exceptional durability
360 adjustable exhaust directs air away from the operator and the work
Push button throttle
Advanced head design delivers extra durability and performance
---
8. AIRCAT 805-HT High Torque 3/8″ Air Ratchet
The AIRCAT 805-HT is the strongest 3/8″ ratchet on the market. Use extreme caution!! Because of the 130 ft-lbs of torque, use with care to avoid finger trapping.
The 805-HT features the latest ratchet head design that eliminates "head spreading" and has a low height profile that can reach tight areas
It has an ergonomically designed composite contoured comfort grip and variable speed trigger with rapid response
The 805-HT is very quiet at only 84 dB and has an adjustable exhaust
2 Year Warranty
---
9. Florida Pneumatic FP-733M 1/4-Inch Quick Reverse Flat Head Mini Air Ratchet
The Florida Pneumatic 733M 1/4 quick reverse flat head mini ratchet is a single hand operation. Extremely compact, patented quick reverse. Flat head improves access. Ergonomic comfort grip and throttle lever. 25 ft/lbs torque and 350 RPM run-down speed. Florida Pneumatics' combination of U.S. made tools and high-quality imported products bring you the broadest range of air tools available from a single source serving today's marketplace.
Patented reverse-change rotation on the job
Visual rotation indicators
Extended flat head design improves access
Built-in torque regulator and handle exhaust.25 ft/lbs torque
Ergonomic comfort grip and throttle lever
Very fast run down speed 350 RPM
Precision engineered and made in Japan
---
10. Neiko 30119B 1/4″ Drive Mini Air Ratchet | 350 RPM
For confined spaces that are extremely hard to reach, the mini 1/4″ drive air ratchet can easily solve that problem. Measuring at just 13.5 centimeters in length, the air ratchet fits conveniently into the size of your palm and weighs under just a pound for extreme comfort and reduces hand fatigue while working.
The small size is not mistaken for the 350 rpm and 30 foot per pound of max torque it can deliver to easily loosen or install your fasteners
The latch style lever makes it easy to control while a switch controls the direction
The bottom exhaust keeps debris out of your face while working and runs on 2.6 cfm air pressure, 1/4″ inlet size, 3/8″ hose size, and 90 psi air pressure
Read More: