Whether you are buying for a circular saw, band saw, miter saw, scroll saw or table saw, it is very important to purchase the right type and quality of saw blade to be able to ensure you get a smooth, safe and accurate cut every time. It's worth your while to be selective, shop around and make sure you get the right saw blade, not just for your particular tool but also for the application. There can be a great different between saw blade types when it comes to the different materials you're working with.
Find the Right Saw Blades Online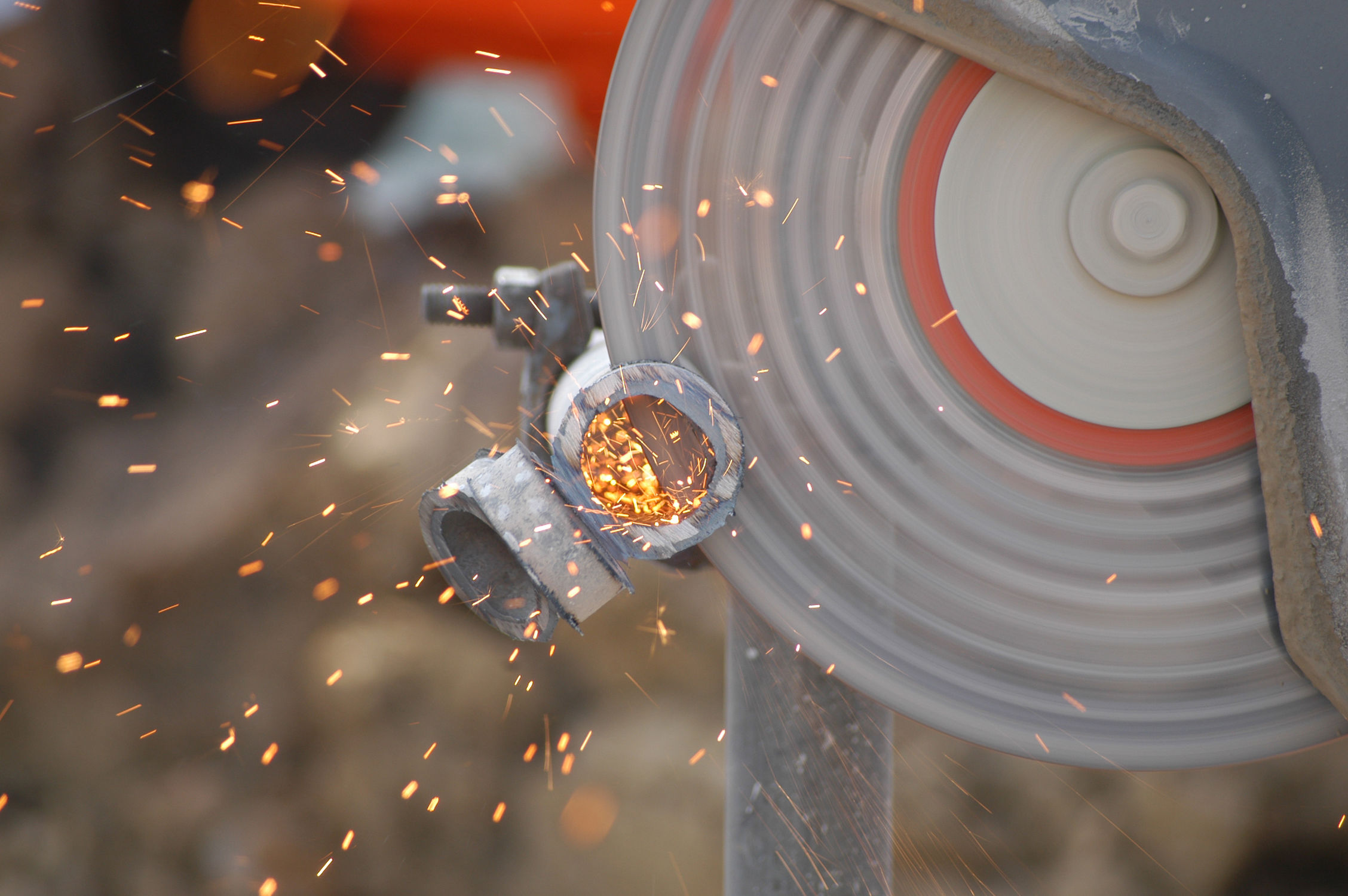 When selecting the best saw blades for the task ahead of you, it's important to consider the materials you'll be cutting, the angles you want to achieve and the overall smoothness of the cut. Saw blade manufacturers have gone to great lengths to specify exactly which scenarios their blades are ideally suited to, so reading the manufacturer description of the blade is a good starting point. Beyond that, you should consider consulting user reviews of each individual saw blade, as this will give you some insights not only into its application, but also the blade's durability, precision and reliability over time. If you want to go into the specifics, consider the number of teeth, tooth configuration, gullet, hook angle, kerf width, play thickness and blade build in relation to the intended application. We recommend you play close attention to saw blade teeth, especially the type of carbide that is used. This can affect the number of times the blade can be sharpened and how long it will stay sharp between sharpening. The blade plate is another important factor; ensure your saw blade has a strong, rigid alignment, so that the alignment of the blade plate stays as close to flat as possible and maintains its position during the cut. Straight cuts are crucial, and the blade plate plays a major role.
---
---
1. Circular Saw Blades
Whether you're a high-volume professional user who demands a durable, tried-and-tested blade to tackle regular jobs, or an occasional circular saw user who is looking for reliability and value, we have put together a selection of circular-saw-blades to cater for all uses.
They come in many different varieties, offering more adaption and versatility than any other type of saw blade. You'll no doubt already have an idea of the size of blade you'll want to fit you circular saw, but it's also important to consider two other factors; Blade Material and Circular Saw Blade Types.
The material of your circular saw blade will determine its overall cost and how you can apply it. At the lower end, steel circular-saw-blades will be able to deal with lighter materials such as softwood, they will be pretty cheap, but don't expect them to last too long. For medium density materials, a high speed steel blade or even a carbide circular saw blade would be your best choice. These offer a better overall quality, and the carbide blades will stay sharper for much longer. For cutting dense materials such as ceramic tile, concrete and masonry materials, you'll need either a diamond circular saw blade or an abrasive blade.
Depending on the grain you're working with, how smooth the cut needs to be and, once again, the material you're working with, you might find you need a specific type of circular saw blade. Types include ripping, crosscutting, plywood, hollow ground, thin kerf, dado, diamond and abrasive circular-saw-blades, to name just several of the many available. Browse through the capabilities when choosing your circular saw blade, and be sure to consult the opinions of other users to get an impartial view on things.
>> 6 1/2 inch Circular Saw Blades
>> 7 1/4 inch Circular Saw Blades
>> 8 1/4 inch Circular Saw Blades
>> 10 inch Circular Saw Blades
>> 12 inch Circular Saw Blades
>> 14 inch Circular Saw Blades
2. Diamond Saw Blades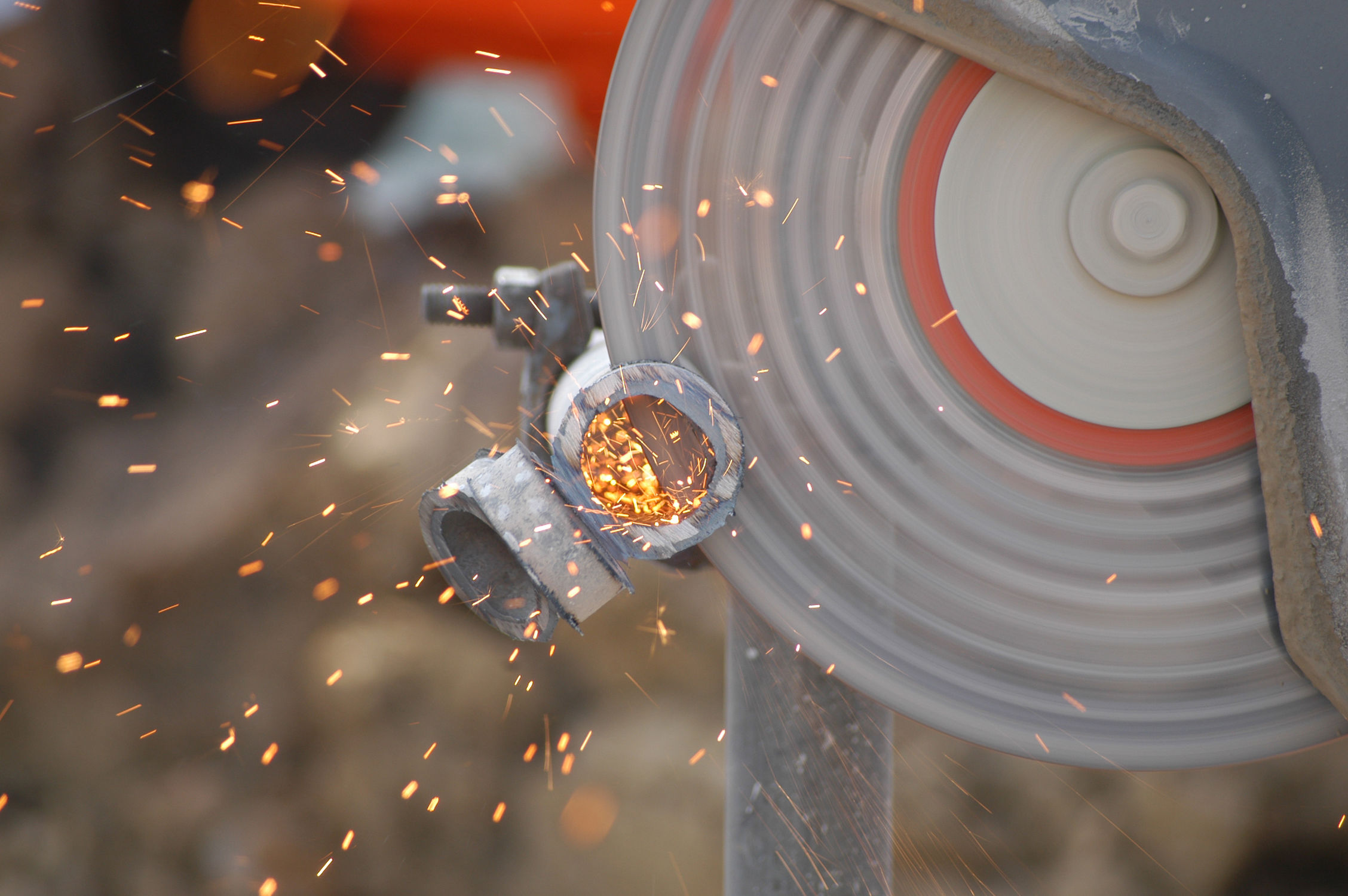 If you're working with dense, heavy duty materials, a diamond saw blade is going to seem like a gift from heaven! More than ever before, modern diamond-saw-blades are allowing professionals to make clean and quick cuts through dense materials such as concrete, brick and ceramic tile.
Turbo rim, segmented rim, continuous rim, black widow blades… there are more and more diamond blade types than ever, make the lives of many craftsmen so much easier. Throw in the variety of cutting depths, maximum RPMs, blade diameters and arbor hole sizes – now you've not only got a great amount of choice available to you, but a pretty tough decision on which is the best one for you! Be sure to consider end use at all times – what are you going to end up using the blade for? Is the blade you're considering not meet your needs, is it excess to requirement (and thus more money than you need to spend) or is it just the right fit? Have a browse around, take your time and find the right diamond-saw-blades for you. And be sure to read some reviews by actual owners of the blades – that's some good impartial input!
3. Band Saw Blades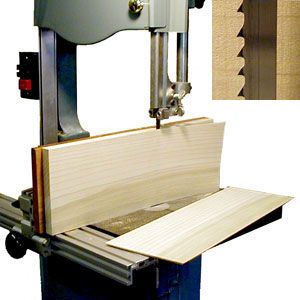 No doubt you're looking for a band saw blade can offer you an accurate cut and one that doesn't need to be sharpened every other week.
When you're choosing your band saw blade, the important factors to take into consideration are the application (what are you going to be cutting with it) and specifications (overall size, teeth per inch etc). If you're looking to cut hard metals such as annealed steel, brass, bronze, cast iron or rolled steel, your best choice is a hard back band saw blade. This can tackle the hardest of cutting materials without the need for regular sharpening. If you're tackling softer materials such as light, non-ferrous metals, wood, fiberglass, plastic or graphite, then a flexible back band saw blade might be the right choice for you.
Most manufacturers will make recommendations on which blades best fit their tools, though of course these are more than likely be their own-brand blades. Regardless, we recommend you consult the manufacturer's suggestions to get an idea of what type of band saw blade would be suitable for your tool, but also pay attention to a few user reviews (which can be accessed on this page). These will give you a good overview of the durability of the bandsaw blades we feature here.
4. Reciprocating Saw Blades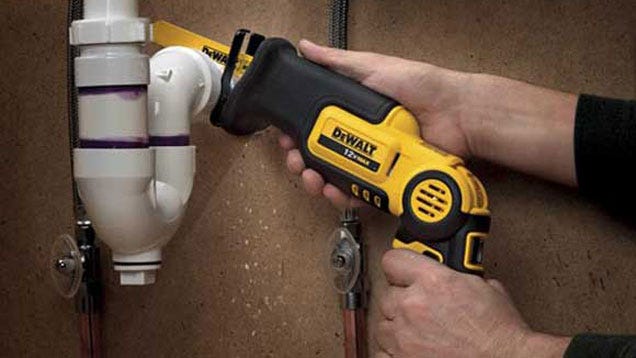 Reciprocating saw users are used to working in tight spaces and cutting at awkward angles – it's one of the joys of using a reciprocating saw in the first place! With the right reciprocating saw blade you'll be able to tack any heavy duty material that comes your way, but it's important to identify your needs early on and choose the right type of reciprocating saw blade for the jobs you've got in mind.
Keep in mind application; what have you used your reciprocating saw to cut in the past? What do you anticipate to use it for in future? Are you anticipating tackling denser materials in future? What kind of cuts are you most likely to make? These are all important questions to keep in mind when choosing a reciprocating saw blade, and with the answers you'll be able to choose a blade that meets your specific requirements. Depending on the application and frequency of user, you'll want to pay attention to the blade's size, the material that it's made from and the tooth size.
In general, you'll find blades ranging from $5 to $35, depending on size, material etc. Whilst the phrase "you get what you pay for" is a good guide on quality, some recent online deals will have you picking up a $30 reciprocating saw blade for just a fraction of its original price. The best gauge of a blades durability and build quality is the opinion of an informed user. Be sure to read the reviews of other users before committing to a particular blade.
>> 6 TPI Reciprocating Saw Blades
>> 10 TPI Reciprocating Saw Blades
>> 14 TPI Reciprocating Saw Blades
>> 18 TPI Reciprocating Saw Blades
>> 24 TPI Reciprocating Saw Blades
5. Jigsaw Blades
A high-quality jigsaw blade will enable you to quickly, cleanly and efficiently cut the material in front of you, but it's important to choose the right jigsaw blade (or blades) for the type of material you're working with.
We strongly recommend you consult the manufacturer's specifications when choosing your jigsaw blade. That is not to say that you should choose a jigsaw blade that is of the same brand as your tool (though this can also be a good option), but rather one that will fit your tool's shank type and complement the kind of cutting you're going to perform. Consider high carbon steel and bi-metal jigsaw blades for woods, plastic and soft metals, but if you're going to tackle ceramic, stone, concrete or other masonry material, you'll want to opt for a tungsten carbide blade. Depending on your requirements, choose a side, taper, reverse, wavy or no-teeth blade, or if you require all you can get a lot better value by choosing a pack, as long as each blade meets your particular needs.
We can't stress enough how valuable the reviews provided by hobbyist and professional users are. These will give you some genuine insights into the different blade types and hopefully get you to a confident decision on which is the best jigsaw blade type and model for you.
6. Miter Saw Blades
Choosing a miter saw blade used to be a very taxing and time consuming task. Taking into consideration the tooth count, rake and hook angles, tooth configuration and a variety of other factors, you could spend hours finding a blade that matches these exact specifications.  Our advice is simple; consider the manufacturer recommended specifications and think about the kind of materials you're going to be cutting. From there you can find the right blade model from the selection below, and once you've done that you can then select the appropriate size – job done!
We strongly recommend taking the time to read some of these reviews of any mitre saw blade you are interested. Provided by actual owners and users of the blades, these informed opinions can help you determine which blade is the right fit for your usage needs.
7. Table Saw Blades
They come in a variety of types; ripping saw blades, fine cutoff saw blades, negative rake blades, combination saw blades – there are almost too many to mention (at least not without making this a painstaking list). The table saw blade you choose it going to have a major impact on your table saw's overall performance and the quality of the final cut, so it's important to choose a blade that's going to perform the desired task to a high standard.
The large variety of table-saw-blades available these days can have you scratching your head, especially when considering the various different features of each. Our recommendations are to choose a blade that has anti-vibration and/or noise reduction built in, and ideally one that is tipped with tungsten carbide (this makes your table saw blade a lot more durable and tough, and gives it a far greater ability for edge holding). Beyond these features, your best approach is to carefully consider what you're going to be using your table saw for. Are you cutting softer materials such as plywood and MDF, or are you tackling the likes of more solid materials such as timber? What kind of cut are you aiming for? Could you benefit from a combination table saw blade, or do you need something more purpose built? Find the answers to these questions and choosing your table saw blade will be much easier.
Also be sure to consult the reviews posted by other users. These can prove invaluable, especially if you're using your table saw in a not-so-typical way, and you can be assured that you're getting impartial, non-salesman like advice.
8. Scroll Saw Blades
Whether you're looking for a plain end or pin end scroll saw blade, our carefully selected inventory of scroll-saw-blades can cater for your needs.
As with most-saw-blades, your scroll saw is going to require a thicker blade, made from a stronger material and potentially with larger teeth in order to tackle denser materials. This should be a primary consideration when choose your scroll saw blade, especially if you're a professional user. On the other side of the coin, if you're a hobbyist or light user, consider a non-professional blade if you don't need the added capability that it offers – this is going to save you money and potential make your sawing experience a lot easier.
If you're creating a complex pattern, your scroll saw is going to need a blade with much smaller teeth. The greater the detail requirements, the smaller the teeth should be. Also be sure to choose a scroll saw blade that you're going to be comfortable using. Adapting to your different blade types is necessary of course, but for best results you should always maintain a level of comfort and satisfaction with your tools.
9. Concrete Saw Blades
Your concrete saw blade needs to be reliable, durable and capable of weathering some heavy duty sawing. Our recommendation to all users is to opt for a diamond tipped concrete saw blade, especially if you're a frequent user. This will not only ensure you get a quality finish, but will also guarantee that you're not buying a new cheap blade every week!
If you're cutting lower strength concrete (typically 3,000 PSI or lower), it is advised to choose a concrete saw blade with a hard bond. Conversely, higher strength concrete (6,000 PSI and above) is better tackled with a soft bonded blade. Following this advice will prevent the diamond particles on the tip of your concrete-saw-blades from going dull too quickly.
Another consideration is between wet and dry concrete cutting. It's not a good idea to use a dry concrete saw blade on wet concrete and vice versa, so if you're going to be cutting concrete wet, it's a good idea to buy an additional blade to tackle this. If you are going to use a wet cut blade, ensure that your saw has a continuous water cooling system to keep the blade from overheating.
The best advice you can get is from industry and professional users who have experience with each blade. By clicking through to the reviews provided with each blade above, you'll be able to get impartial expert advice to help you make your decision.
10. Chop Saw Blades
They have come a long way in the last 15 years; thanks in a big way to computer aided balancing which allows you to reduce vibration, improve cutting accuracy and overall give you the best possible finish.
If you're in the trade, you'll know how important it is to have a well functioning chop saw blade at your disposal. The finest diamond edge chop-saw-blades on the market can smoothly and efficiently tackle threaded rod, pipes, studs, angle iron and pretty much anything else you're wanting to cut. You'll also be able to cut plastic, concrete, fiberglass and non-ferrous metals without a problem too. Your main considerations should be the durability (and thus lifetime) of the blade, especially when considering "lifetime cost" rather than just the initial cost, and what the particular chop saw blade is capable of in terms of cutting. Many of the blades featured on this list also come with a limited money back guarantee, which is especially useful if you're not 100% sure on the capabilities of the blade.
As with all blade choices, consult the user reviews provided. These are often far more detailed and useful than the manufacturer descriptions, especially when it comes to specific applications.
11. Jewelers Saw Blades
Having a good selection of suitable jewellery-saw-blades is an essential part of being a skilled jeweler. You'll find at least a couple of good quality jeweler's saws on every jeweler's bench, so you need to be sure that you have the very best jewellery-saw-blades to enable you to tackle any project.
Most hobbyist and professional jewelers own several saw frames, and you're probably no different. Depending on the durability you're after, how often you're willing to sharpen the blades, the curves you need to make (the kind easily managed with a curver jewelry saw blade) and your budget, you can choose between a varieties of different options. Infact this seemingly endless choice can seem like a bit of a pain, especially if several different blades fit your needs. Our suggestion is to consider your specific uses of each blade and buy based on the application, rather than the additional "would be nice to have features". You can always shop around and collect several blades, especially in the budget range, to find out what works best for you. But most jewelers will settle on a particular range of blades that perform for them, and stick with them for years to come.
12. Bow Saw Blades
Shopping for a bow saw blade can be a tricky thing. Whereas most mechanical saws have a great deal of reference information and recommendations based on their model numbers, bow saws do not.
Most modern bow-saw-blades are hardened and tempered by standard, but it's always a good idea to double check this, especially with the non-brand name blades. Rust prevention coatings are another great addition to modern bow-saw-blades, though this can increase the price a little (though if you're planning to use your bow saw well into the future, this is probably a good investment). There are many general tips we could give you, but the best advice is to find which bow-saw-blades fit your technical and usage specifications, consult the manufacturer's description and, potentially most important of all, read what other users have to say.
The latter will almost always tell you whether or not this is the blade you're looking for – thankfully the craft and home improvement community online is a very friendly and helpful one!