Why should you buy a Router Table ?
As mentioned in the introduction, there are a lot more benefits of using a router table than are immediately obvious. While not every benefit would be applicable for every person, we have listed all the major ones to give you an idea of just how much value one can add to your workroom. Note that the benefits mentioned here include those to be had from a router itself, as the utility of a table and a router cannot be separated.
Get specifically shaped edges: Router tables are capable of delivering a variety of different types of edges – from artistic ones to those that are necessary for joining pieces of wood, attaching hinges and wedges and so on. Indeed, with a little modification of the bit thickness and shape, one can get virtually any edge that one wants from the router table.
Get uniform edges: While a terribly erratic edge would not be operable at all, the most common issue with pieces of wood or ply are the occasional rough edges that stick out from the otherwise even edge. Router tables get rid of such unwanted aberrations and in doing so, allow the user to obtain pieces that are ready for further woodworking ie they do not require polishing or refining.
Inlay Grooves: Inlay work, especially captured inlay, requires precision cuts that are impossible to achieve with any mechanical tool except the router table. This is because the inlay requires clean insertion and while all other cutting tools are meant for cutting through and thus cannot be primed for quick removal. As we shall see below, plunge routers are better at this task than fixed ones.
Much faster than other cutting tools: Since these units only encounter the wood along one side, they tend to work faster through wood than other cutting tools which move through the middle of the wood and hence have to face friction on all sides. This allows the router to work much faster on tasks that can be done by other woodworking tools. Such speed enhancement is further helped by the fact that the router table negates the vibrations and other movements that inevitably creep into the operation of handheld routers.
Excellent scope for modification/specialization: While most cutting tools would only allow for changes in height, our router table reviews shall show that the bits can be modified to a far greater extent. Indeed, one can achieve even layered edges in a single cut that would require multiple cuts using other cutting tools.
Safer and consumes less electricity: Since the bit tip is small and there are no additional moving parts, the wood chips produced due to friction are limited to a small area and generally fall through the spaces on the sides of the bit to the floor below. Further, operating on a table insures against unintended bending and breaking of the cutting edge since the wood is being fed in a straight line. Hence, these tables are ideal for beginners who do not understand the complexities of advanced safety equipment but would still like to learn the basics of woodworking. Further, since the router only turns the bit and not a large saw (or similar equipment) the amount of electricity consumed is low. This is especially so since the bit can move through large pieces of wood in a very short time, thus reducing worktime significantly.
Frees both hands: Since the router does not need to be held in one hand, both hands are free to hold and push the wood onto the cutting edge. This allows for smoother and more precise cuts. Further, complex cuts like cope-and-stick joinery can be achieved using both hands.
Types of Router Tables
Though there are a wide variety of routers available, the tables themselves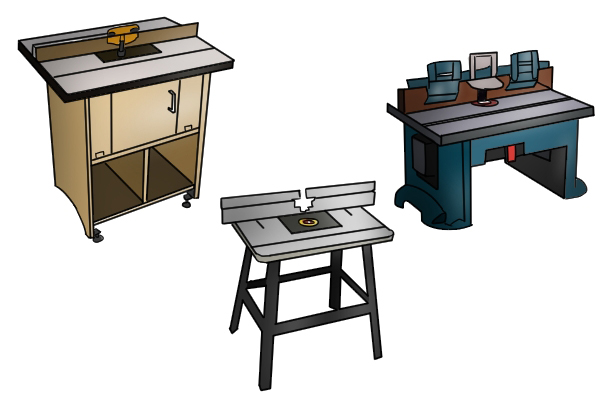 Free-standing/floor-standing units: As the name suggests, free standing units come with large surface areas that take the form of an ordinary table. Though smaller than those meant for miter cutting, these tables are nevertheless capable of accommodating large pieces of wood and furthermore, can be used with miter gauges (though their use is often advised against). Such tables are generally compatible with all bit sizes and types of routers and hence, are highly versatile. On the negative side however, they tend to be costlier than alternatives.
Table saw accessories: Meant only for those who carry out routing on a non-regular basis, these accessories attach to the sides of the cutting table and can be used with only certain specialized units. In fact, it is often the case that the router table of this variety works with only the best routers of the company that made the table saw and the table itself. Further, they are known to be wobbly and excessive use might jeopardize the stability of the entire table. Hence, these are strictly meant for occasional users of routers.
Bench-top units: Meant to stand freely on bench tops or other cutting tables, these machines are essentially smaller variants of the floor-standing units. They are ideal for cutting extremely small pieces of wood and are again, meant strictly for those who are occasional users of the router.
---
---
1. Kreg PRS1040 Precision Router Table System
A benchtop router table is a tool designed to help those people engaged in woodwork activities. This equipment will aid them to finish their job in a faster way while allowing them to get ease in cutting woods at the same time. You have lots of options when it comes to this kind of tool since there are many companies that manufacture and supply this product in the market. One good example of this tool is Kreg PRS1040 Benchtop Router Table.
This Kreg PRS1040 Benchtop Router Table is intended for those people who work as carpenters and those who are involved in certain wood related activities. This tool is made with features that are extremely important to obtain précised sizes of wood pieces in every cut.
Fully enclosed, aluminum fence for superior precision and dust collection
Edge-banded MDF top absorbs vibration and noise; easy-slide micro-dot skin
9-1/4 by11 3/4 by 3/8-inch thick phenolic insert plate works with any router
Individual fence faces allow table to double as a vertical jointer
Dual reducing rings boast three independent leveling/lock-down screws
---
2. Bench Dog 40-001 ProTop Contractor Benchtop Router Table
The Bench Dog 40-001 Benchtop Router Table is all what you need. There are different kinds of router tables in the market day. They vary in different sizes, shapes, materials used and designs. Because of their abundance in the market, almost all kinds of router table available have similar functions and it brought confusion to customers. However, the difference occurs when it comes to convenience to use and precision. You don't have to be fooled by its designs and vibrant colors and instead, you need to focus on the quality and performance. Now, if you are looking for a router table possessing both quality and performance, Bench Dog 40-001 Benchtop Router Table is all you need.
Ample 16-by-22-inch router table with plastic laminate top
Clear acrylic insert accepts most routers; melamine cabinet
Extruded aluminum fence with T-slots
All necessary hardware and assembly instructions included
Limited 2-year warranty
---
3. Bosch RA1181 Benchtop Router Table
Any kind of job will be easily done if you have the necessary tools and materials. If you are carpenter or you are engaged in woodwork activities, Bosch RA1181 Benchtop Router Table can help you finish the job easily and in lesser time. There are several manufacturing companies that supply this particular tool and this is where Bosch is known for.
Bosch RA1181 Benchtop Router Table is suitable for those people who are engaged in carpentry. This tool will help them in their everyday activities.
Benchtop router table is compatible with most routers
Includes 2 adjustable featherboards, dust collection port, dual outlet switch and 6-foot power cord
Aluminum fence with MDF face plates and aluminum router mounting plate
Includes mounting hardware for a variety of routers
Work surface measures 27-inches by 18-inches
---
4. Porter-Cable 698 Bench Top Router Table
Every time you purchase any powerful tool, it is required to check all the features and advantages and disadvantages that go along with them. By this, you will identify if the product will suit your requirements in your project and budget as well. This Porter-Cable 698 Benchtop Router Table Review will aid you to know more about this powerful tool and decide whether it is suitable for your working needs.
Porter-Cable 698 Benchtop Router Table is the perfect option for private homes and small business as well as woodworking fanatics. Through this tool you might handle easily the comprehensive choices of woodworks, not actually less efficiently match up to Porter-Cable 698 plan might well complete. This state of the art router table from Porter-Cable provides a lot of safety and stability weigh against to the handheld table routers.
Large 19-3/4-inch 16-3/4-inch machined aluminum top with cast-in lip to support table extensions
Multiple starting pin locations
Quick-adjust split-fence design with independently adjustable halves
Large 3-5/8-inch table hole size allows use of 3-1/2-inch diameter router bits
Comes with table and miter gauge; 3/4-inch Miter Gauge Slot
---
FAQs
Now that you have gone through the tips, it is time to clear up some residual queries regarding purchase and installation before we proceed to discussing how to build a router table and related topics.
1. Which table size should I go for if I already have a router ?
If you are purchasing a free-standing/floor-standing table, there is no reason to worry about the size dimensions of the table. The hole of even the mediocre table should be able to fit even the largest of the most common routers, though operation might only be successful on the best ones. Further, the best units come with a wide range of base plates so you never have to worry about your router being too small for the table.
2. Can I use raised panel bits with the router table ?
In most cases, the answer would be no. Some special units allow for the use of raised panel bits but they also make removal of the router from underneath the table a difficult chore. In any case, raised panel bits are not meant to be used with router tables so they are best avoided.
3. I find it convenient to use the miter gauge. Why do you discourage it ?
Miter gauges are meant to be used with fences that are completely fixed and non-adjustable. This is because the miter gauge's rail is fixed and any change in the distance between it and the fence would lead to weakening of the functionality of the miter gauge and a poor cut.
4. Is cutting procedure for a table the same as that for a free-weildingrouter ?
Yes, the wood still needs to be fed to the cutting bit from the right such that it moves towards the left. This is because the bit moves in a counter-clockwise direction and pushing the wood from the left to the right would cause the wood to be "snatched and torn away" by the bit.
5. What are the starter pin and cutting bit specifications for the router table ?
The same as those for the router. Note however that because you would be pushing the wood against the bit and not the other way round, you would ideally go for the ½" bit as opposed to the ¼" bit as the latter is prone to bending. The starter pin specifications will vary according to the router used.
6. Is safety equipment necessary ?
Absolutely. The cutting procedure may be safer than those of comparable machines but high speed bits of wood would still fly into your face and eyes. Wear safety goggles and hand protection to keep wood chips from harming you. Further, since a lot of sound is produced, noise-cancelling headgear is advised as well.
Read More: